About City Lock & Safe Ltd
Celebrating 65 Years in Business.
City Lock & Safe Ltd provide a wide range of Security Equipment and Services to secure all types of properties including, domestic properties, Residential Homes and Businesses from Commercial and Industrial to Metropolitan & County Councils, NHS Trusts, Police Authorities and Blue Chip Companies.
Our trusted, knowledgeable and experienced City Lock & Safe Ltd team…
Tom Clarke
George Clarke
James Brooks
Andy Kay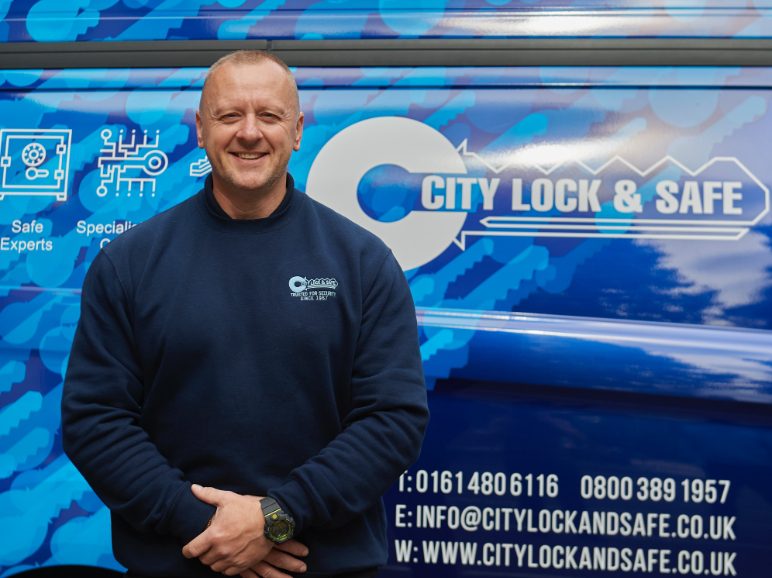 Scott Blundell
Jake Wilson
Our History
City Lock & Safe Ltd was founded in 1957 and has established itself as one of the North West's leading Master Locksmiths, Safe Engineers and Architectural Ironmongers. Originally based in central Manchester, the business relocated fully to Stockport in 1972. Still under family ownership, currently in its 3rd generation, the company employs many long-standing skilled people.
The story begins!
Formed initially in 1870 in Manchester, trading as G.W.Wilkinson Locksmiths & Whitesmiths. It was there, under the guidance of Mr. Wilkinson, that Ray Clarke served his apprenticeship.
The sign of things to come
Following the sad death of Mr. Wilkinson, Ray and fellow apprentice and soon to be business partner Austin Chadwick ran the company for Mrs Wilkinson.
Ownership change
Ray Clarke & Austin Chadwick, both aged 20, purchased the company and changed the name – City Lock & Safe (M/C Co) was born, April 1st, 1957.
Combined service of 100 years join the company
Joining as apprentices Harry Handforth & Neville Hough remained with the company until 2005 and 2014, respectively. Progressing to Sales and Service Managers.
Outright ownership
Ray purchased Austin's share of the company to become the sole proprietor.
Stockport Branch
With a close association with Stockport, having studied at Technical College, Ray opened the Stockport Branch – 19 Buxton Road.
Relocation to Stockport
The closing of the Manchester branch came in 1972. With the company expanding, larger premises in Stockport were required. 33 Buxton Road, Heaviley, was purchased and has remained home to the company to this day.
Tom joins the company
Ray's son, Tom, joins the company. Like his father, Tom spent his formative years 'On the Bench' learning the trade followed by several years as a service engineer gaining further hands on experience.
Belinda joins the company
Ray's daughter & Tom's sister, Belinda, joins the company providing over 35 years' service.
Annali joins the company
Ray's daughter & Tom's sister, Annali, joins the company and remains in position today as Company Secretary in charge of finances and the purchase ledger..
Tom is appointed Managing Director
Having progressed from Service Engineer to Sales and Marketing Tom is appointed Managing Director in 1989 and the second generation of management and ownership begins..
Stop the press!
A profile of the company within a trade magazine, partnered with security industry wholesaler Colson.
40 years in business
1957 – 1997 celebrated 40 years in business. Continuing to trade with new and existing customers, some of which have had custom with the business from the very start.
George joins the company
Aged 18, George joined the company straight from college. Like his grandfather and father before him, George spent his initial years in the workshop and the Master Keying Department learning the trade from within.
Harry Handforth passes away
Following a short retirement period Harry very sadly passed away in 2006. The news came as a shock to his family and employee's past and present.
EuroSafes establish – www.eurosafes.co.uk
The company established 'Euro Safes', the online buying arm for Safes and Data Cabinets. This advance into website sales had led to the company exporting safes and security hardware throughout Europe and beyond.
Pinnacle Hardware established – www.pinnaclehardware.co.uk
In this year Tom very proudly achieved his Diploma from the Guild of Architectural Ironmongers and has since establish 'Pinnacle Hardware', now an integral part of the business suppling Architectural Ironmongery working with architects and contractors alike on specifications.
Ray officially retires
Having relinquished full ownership and day-to-day running of the company some years previous Ray decided to formerly retire in 2007 – marking 50 years in business for both him and the company.
James Brooks joins the company
Aged 17, with some experience of the trade, James joined the company as an apprentice. Learning the trade under established and experienced members of staff. James has gone on to excel in all avenues of the trade and became a full Member of the British Locksmith Institute (MBLI) in 2014.
Neville calls time
In his 70th year, and with 50 years' experience Neville retires from the company to spend more time at home and with family, both in New Mills and Sweden. Neville continues to remain in touch and on occasion calls in to say hello!
George has a seat at the table!
Marking 10 years in the industry and with the company, 2015 saw George become a shareholder and Director of City Lock & Safe Ltd and CLS Group Ltd.
60 years in business
1957 – 2017 celebrated 60 years in business. Close to retirement age but showing no signs of stopping just yet!
Master Locksmith Association visit
Regularly visited and inspected by the MLA – May 2019 was a proud moment for all involved with the company past and present, with the kind words offered by former President – Gary Eckersall. "City Lock & Safe Ltd are an asset as a member of this association" Master Locksmith Association (MLA) inspection May 2019.
Keeping up with the standards
Development of euro cylinders has seen the rise in standard TS007 / 3* & Sold Secure Diamond. With an ever growing amount of UPVC and Composite Doors in domestic properties, City Lock & Safe Ltd set about ensuring Customers have a perfect solution to keeping their homes, valuables and loved ones safe and secure. Twinned with an awareness campaign of leaflet distributions, and evenings with the Police to present to the public the ever-common threat of 'Lock Snapping'.
1957 – 2022 celebrated 65 years in business.
A very proud achievement for everyone involved with the company.
Mike Nance

March 10, 2023

Just had my door lock sorted out. Key had snapped off in the lock. James arrived exactly on time . Very professional and friendly. Explained position regarding old lock, not up to standard for outside door. Fitted brand new superior lock very quickly. Very happy with service and price very reasonable in my view. Thanks..

Junior Santos

November 13, 2023

Very helpful guys at city lock and safe. Got me a key done for my 1990 VW camper. Much appreciated ! Best regards .

Zoe Grayson

June 7, 2023

Fab service, fab staff and nothing too much trouble! Tom, Scott and Andy are amazing professionals! Highly recommended.

Dawn Flett

March 27, 2022

I chose this company because of their professional approach as soon as I contacted them, Scott came today to undertake two lock changes, however one was door needed more than a lock change. Scott diligently carried out the work, at no extra cost, and I now have a door that not only locks but is hung properly. I would highly recommend this company for their professionalism and communication throughout. Thank you very much..

JOHN RAFFERTY

January 27, 2023

Scott and Andy fitted replacement window handle/locks. Prompt arrival and friendly service. Very professional, helpful company. Highly recommended ..

Andy Brown

March 9, 2023

CLS came out at short notice to fix a problem with our door, and then returned the next day when it proved to be a non-standard lock - great service..

Neil Smith

April 21, 2023

I visited the shop today with a view to swap out my lock barrels at home. I was recommended a great product and advised on how to fit. I fitted the locks in no time at all. I then WhatsApp'd the shop to order three more keys. I returned and didn't wait long before they were ready. Really friendly and helpful staff, they were Tom, James and Jake. Thank you..

M Tomlinson

February 9, 2023

I wanted some original 1930s internal brass locks refurbishing including the old keys. City Lock and Safe came highly recommended through word of mouth and after looking at the reviews I popped into their office on Buxton Road. Extremely helpful staff and I George emailed me confirmation of my request and cost. Shortly afterwards, Scott came and removed all 4 locks. Whilst they were being refurbished I was sent updates on the work and a couple of weeks later Scott and Andy came back to fit them. All locks have been refurbished to a high standard and I now have sturdy handles with keys - and they look fantastic. Throughout the whole process they have been professional, polite, paid attention to detail and there very high standard of work was value for money. I couldn't recommend them highly enough and will be using them again..

Hayley Nash

September 20, 2022

Really quick and efficient replacement of door locks same day. Scott was very friendly and professional - would definitely recommend.
Drop us a message to discuss, or call in to our showroom & workshop on 33 Buxton Road, Stockport, SK2 6LU
Call our experts on 0161 480 6116
FREEPHONE on 0800 389 1957