Are Your Locks Snap-Safe?
Simply having a good lock is not good enough.
Home security that goes beyond normal 3 star locks.
What is a snap safe lock and is my door at risk of lock snapping?
Lock snapping is a technique that burglars are using to easily break into a property. This method is only successful on properties that don't have snap safe locks installed. UPVC, aluminium and composite doors are usually the target as the locks that they come installed with generally are not snap safe locks.
This method of breaking into a property is scarily easy! By applying a bit of force a burglar can snap the locking cylinder in two, they are then able to expose the locking mechanism by removing the outside of a lock, this then allows the door to be unlocked manually or by using a tool such as a screwdriver. It only takes less than ten seconds for an experienced burglar to get into a home using this method, which is less time than it will take to read this paragraph!
Lock Snapping Burglaries On The Decline
According to a study carried out by the MLA (Master Locksmiths Association) based on statistics shared by West Yorkshire police through a freedom of information request, the amount of successful burglaries using the lock snapping method is on the decline.
Statistics show that in 2011 lock snapping burglaries were at a record high, with 15.87% of burglaries had been committed using the lock snapping method. Statistics show that as of June 2019, the number of burglaries committed using the lock snapping method has fallen to 8.2%. That's a massive 7.5% decrease.
Why The Decline in Lock Snapping Burglaries?
It is believed that the decline in the lock snapping method is due to new anti-snap locks hitting the market.
In 2012/2013 another standard of lock was introduced TS007. This was developed at 3* level by DHF (Door & Hardware Federation) and GGF (Glass & Glazing Federation) again this has been developed specifically to help prevent lock snapping.
How To Prevent Lock Snapping?
In order to protect your home from lock snapping you need to ensure that you have snap safe locks fitted. Contact us today and ask about our Ultion 3* Lock. Get the ULTimate Security, ULTimate service from City Lock & Safe Ltd.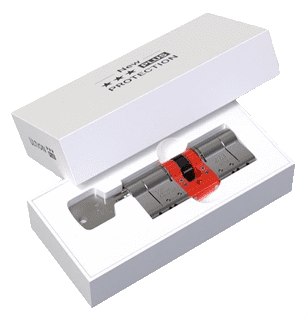 Ready to secure your home?
We've got cylinders in stock ready to install.
Should a burglary take place within 5 years from the date of installation and entry was achieved by snapping an Ultion lock we will pay you £2,000.
Secure your home today!
Drop us a message to discuss, or call in to our showroom & workshop on 33 Buxton Road, Stockport, SK2 6LU
Call our experts on 0161 480 6116
FREEPHONE on 0800 389 1957