Improve your home security with the most secure door handle
Watch how the Ultion 2 Star Plus handle compares to a standard handle…
Our handle protects you even if your lock is beaten…
ULTimate Security, ULTimate service. Why opt for average protection when you can choose protection that comes with a failsafe? With Lock Lock, the patented lock-block stops the spindle turning. If the spindle doesn't turn, the door doesn't open. That means double the protection for you and your family.
Style
With 7 finishes available, whether your home is contemporary or traditional, country-style or urban cool, there's an Ultion 2 Star Plus Handle for you for you.
Protection
With the difficult to grip exterior, paired with the patented lock-block that stops the spindle turning, the Ultion 2 Star Plus takes protection to the next level.
Swap keys for the switch
Ultion 2 Star Plus removes the need for a key on the inside thanks to a clever switch. Perfect for doors you never lock from the outside.
This patented design features a simple, super-safe switch which replaces the need to turn a key to lock your door. There's no fuss, no risk and no searching for keys. You simply lift the handle and flick the switch.
Taking your home security to the next level
Lock Lock's patented spindle design works in partnership with internal grub screws to actively prevent an aspiring burglar from pulling or pushing the spindle through. With every feature designed to protect against intruders, Lock Lock turns your door from a temptation into a deterrent.
Professionally, independently tested and accredited
Strength at every level
At 3mm thick, Ultion 2 Star Plus walls are twice as thick as conventional handles. It also has hidden reinforced webs. With conventional handles, what you see is all you get. With Ultion 2 Star Plus, better security is built right in.
8,056
Hours sprayed in salt water. The accreditation requirement is 240 hours
Surpasses all tests
Ultion 2 Star Plus's performance and durability meets the highest standard measured – EN 1906 Grade 7. Ultion 2 Star Plus was still opening and closing a door after being used 200,000 times ('opening cycles') in independent, third party testing. It's a great indicator of build quality.
Less cylinder means less grip
Burglars just can't do it, thanks to the Ultion 2 Star Plus curved finish. Even with the use of the intruder's best friend, molegrips, The stylish rounded form deters and defends against attempted attacks. Plus, the cylinder sits inside the handle, meaning less grip and less risk for you and your loved ones.
7 Colour Options
White, chrome, gold or stainless steel – the choice is yours.
Why not upgrade your property's style as well as its security?
Ready to secure your home with Ultion 2 Star Lock-Lock Handle?
We've got handles in stock ready to install in your home.
Get in touch today to see how we can improve the way your doors lock – improving the security of your home. Ultion 2 Star Plus fits all PVC and composite doors and any other door with a standard 122mm or 211mm handle set.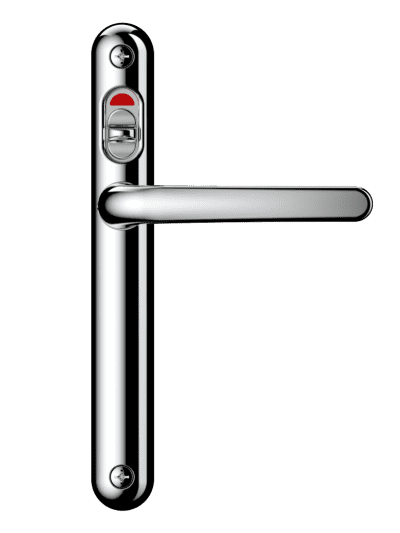 Secure your home today!
Drop us a message to discuss, or call in to our showroom & workshop on 33 Buxton Road, Stockport, SK2 6LU
Call our experts on 0161 480 6116
FREEPHONE on 0800 389 1957
Watch the difference between a normal handle and a lock lock handle.
210% Tougher. It's only ever fixed with 12.9 grade, high strength steel alloy M6 bolts. They are 210% stronger than M5 bolts!
Approved by everyone…